Local Conditions of area:
Horizontal Heavens Light Pollution Map in Texas
The Observatory Project - Light Polluting Neighbor
More Information:
Dome Interior *includes metal pier construction and dome control system
Observatory Concrete Construction
Elevated Building Construction
Back To The Observatory Project
(Below Left) 5/12/2006 - Pedernales Electric COOP literally aims directly at the Observatory in clear sight. This light was just installed on the adjacent lot to the observatory. (Below Right) Observatory telescope perspective of new Pedernales Electric COOP "security light. CLICK ON IMAGE TO ENLARGE
(Below) On the left you are looking out shutter to north and right you see the shadow of the telescope cast on the back wall of the dome from the Pedernales Electric COOP mailbox "security" light 5/12/2006. CLICK ON IMAGE TO ENLARGE
(Below) Newest Light Pollution - This light was just placed on the lot RIGHT NEXT to my $50,000 Observatory with the full cutoff turned up and facing uphill 5/12/2006. The image was taken from the TOP of my 50ft hill! I called Pedernales Electric COOP immediately. CLICK ON IMAGE TO ENLARGE
(Below) Pedernales Electric COOP also placed this light aimed at the observatory on 3/3/2005 just 3 days after dome was completed.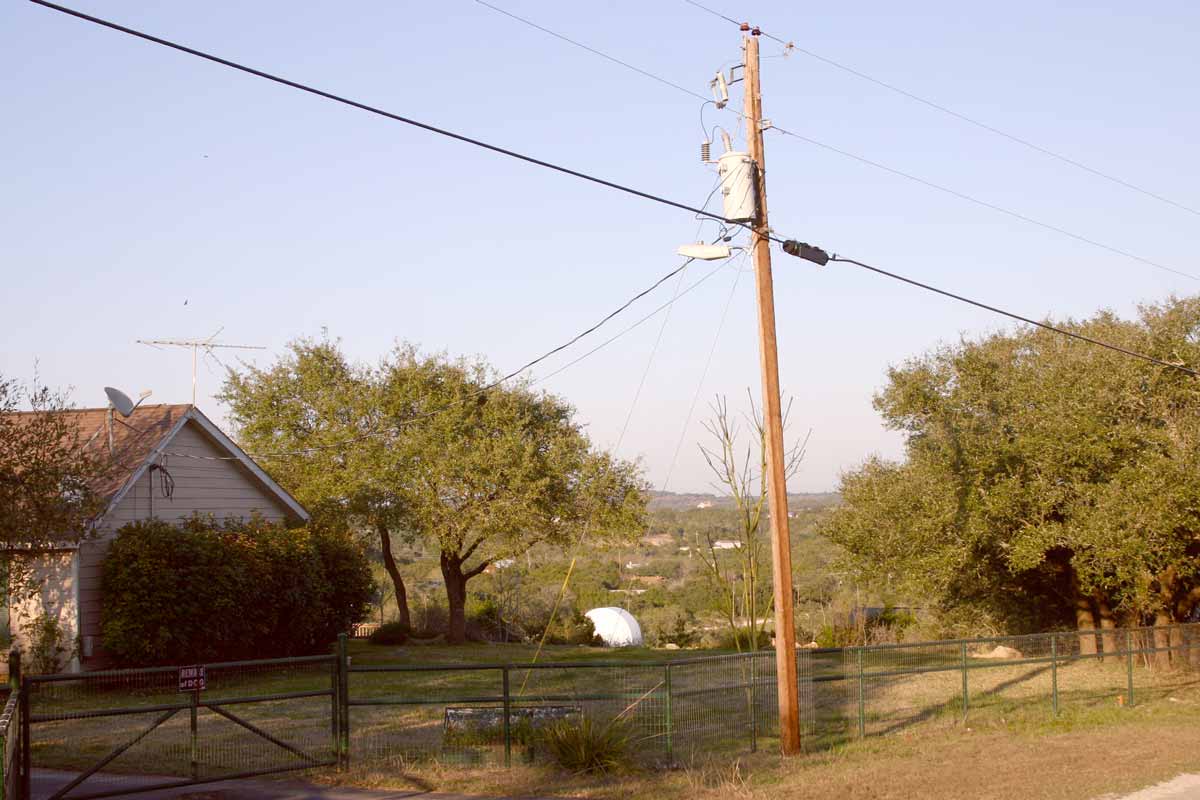 (Below) Neighbor's new threat of flood lights. At least he is leaving a paper trail :>)
(Below) February 27, 2005, my neighbor's reaction to observatory completion. I bet he sure needs those pool lights on in February! On March 3, 2005, my light polluting neighbor, put up a new pole light. I guess my 20ft high privacy fence is going to become a reality. Next picture is of BOTH new pole light and dome. I am in negotiation with the Electric Co-op about removal/shielding/moving, etc., in order to eliminate pollution.
Close dome images are 4sec exposures showing trees shadows cast by the Pedernales Electrical Co-op (PEC) pole light before and after turning light direction. Next row are 30sec images before/after turning light direction on same pole.
(Below) 3-8-2005, 3-9-2005, 3-10-2005, First clear nights since pole light went up and light polluting neighbor also turns on back porch lights, except for early 3-10-2005 (guess he forgot for a moment), 4th & 5th image (now on by 10pm and remainder of night). 5th image shows porch lights directly. Since I have not even had a chance to install my pier yet, these images are from my deck attached to the observatory. All are 60sec images clipped to a 150 histogram.
3-11/12-2005. Called light polluting neighbor about light and recorded conversation (legal in Texas). Not a pleasant conversation, so I won't share details. Bottom line is he turned lights out tonight, threatened me with his calling police to report me for taking pictures of his home "with his daughter home" with the implied accusation, yet balked at my suggestion to supply a tall privacy fence "for his concerns." As an educator, I know of only one way to deal with such accusations, OPENLY, so read it here.
(Below) 3-11-12-2005 First image shows reflection inside dome of neighbor's fluorescent light inside his garage with door open when pointing shutter 60-80 degrees to the south of light. Second image shows a direct shot of the latest offending light from the neighbor's garage. All 60sec images with 150 histogram.